Ikantravel Fishing Trips is a project that has been carefully developed over a number of years with a very clear goal: To make fishing trips abroad available to everyone. Because an organized fishing trip in foreign waters – with all the comforts and guarantees that it includes – can be within the reach of more anglers than one might imagine. 
What's more, we can also provide a more exclusive range of fishing trips, in which the smallest detail will make the memories of your experiences unforgettable. 
Ikantravel is a close, personal, and professional agency where you will be constantly advised and your needs will be closely monitored at every stage, from the moment you first contact us, until you return from your fishing adventure.
Since mid-2023, the travel agency has been part of the Orvis Adventures program. With the support of this great brand we continue with our adventures around the World, taking Ikantravel Fishing Trips one step further.
My name is Sergio. I was born in Barcelona in 1992. Ever since I was a young boy, I was always immersed in the world of fishing, but it wasn't until I was 15 years old that I discovered the method of angling that would, years later, become my way of life: fly-fishing.
Some years later, and as soon as I could, I undertook my first fishing trip. Since then, I haven't stopped meeting extraordinary people that have given me the opportunity to fish in lots of different locations all around the world. 
Travel has always been a great passion of mine. To date, I've visited over 37 countries, and in many of them I've been able to enjoy the fishing that the country offered. 
As a result of my years traveling and exploring new places, in 2022 I decided to set up Ikantravel – a specialist travel agency that is open to everyone and which now I'm sharing with you.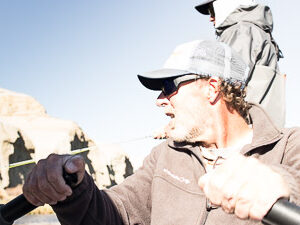 Rob is a native of the state of Indiana. He spent his college years in Bozeman, Montana, and he is currently one of the professionals that collaborates with Ikantravel for the fishing trips that we offer to the states of Wyoming, Montana, and Colorado.
He's been a professional fishing guide for more than 20 years in diverse locations such as the legendary Green, Snake, and North Platte Rivers, and countless hidden corners of the Teton and Yellowstone National Parks, as well as in his home state of Indiana.
My relationship with Rob goes further than the purely professional, as our friendship was the catalyst that years later would lead to my decision to set up Ikantravel.
Rob will ensure that your fishing trip to the United States becomes something much more than a simple holiday, something that will be etched in your memory for years to come.

A new Sales Representative will soon join our team…